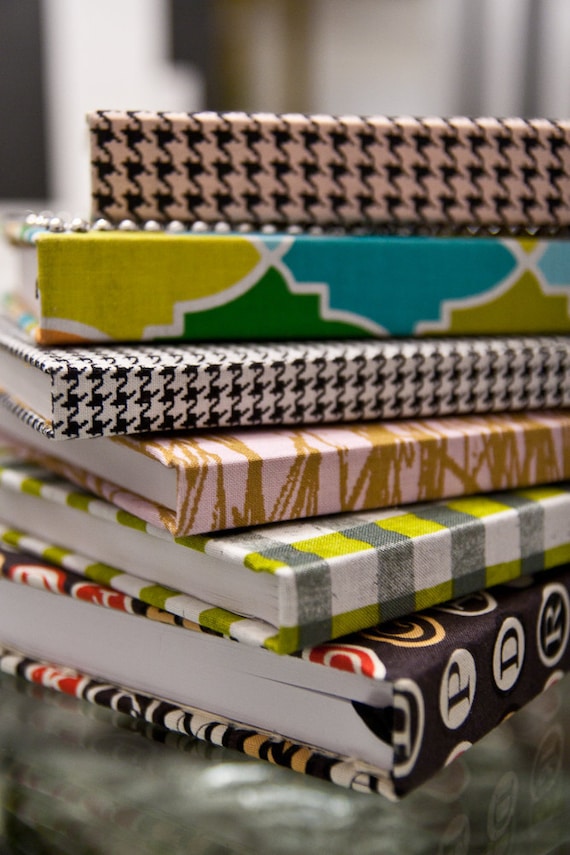 Today is the grand opening of a great little Etsy shop
a.j. + lola
. It is not often that I will promote a small shop, but this is something that I intrinsically feel passionate about. It's not just another online store where a chic 20 something is crafty and trying to make a profit. There is a story behind it all, and that's something I love.
3 sisters have come together to produce chic handmade journals made with a wide range of modern fabrics and lined with rich + flirty carefully handcrafted fine paper. The sisters are all passionately creative and have their hands in everything from jewelry making to acting and songwriting.
In June of this past year, Jennifer ( the "j" of a.j. + lola) became severely ill and for months, she was confined to her home. In the midst of surgery, tests and procedures, and being taken back and forth to the doctors to try and figure out what was wrong with her she discovered a new talent.
She often purchased journals along the years, but there was a journal she purchased one day and said to herself "I can make this", so she went to the fabric store and began making journals of her own. It was at that moment a.j. + lola (jowriter1984 collection) was born.
In November 2011, Jennifer found out she has Multiple Sclerosis, a chronic autoimmune disease that affects the central nervous system (the brain + spinal cord). The progress, severity, and specific symptoms of MS are unpredictable. She could one day stop moving or wake up one morning and realize her eyesight is gone. There is NO cure for this disease. Now that she has been affected by the dibilitating disease she's on a mission to help fund research and possibly find a cure.
Here is a brief mesasge from one of the shop founders Jennifer:
With your help, a cure for MS is possible. This diagnosis has changed my life, however it has not stopped me from living and loving life. I will continue to "love passionately + live creatively," and I encourage you to do the same. #mscurepossible
The journals range in price from $16-$24. There is an introductory sale between today and Thrusday so purchase early! I most definitely will be purchasing a journal. I have my eye on the pink and black houndstooth one.
xo
Candice Olivia